Profile

This journal should be viewed with discretion.
Free Account
Created on 2009-11-17 19:25:45 (#460065), last updated 2009-11-17 (409 weeks ago)
74 comments received, 1 comment posted
189 Journal Entries, 42 Tags, 0 Memories, 1 Icon

About

Mini Bio
I don't have a lot to say about myself. I'm me, and it's not always interesting, in fact it's very rarely interesting.
I've entered a new phase in my life. I'm a mother and so I will be talking about my thoughts on motherhood and raising my child. If this isn't your cup o' tea feel free to ignore it. Since I have spawned my focus has shifted but I do still talk about other stuff.
I'm a
BitPusher
, and I have the hat to prove it. :)
I think I'm becoming addicted to
BPAL
. I never thought I'd be a perfume kind of girl, but this stuff rocks my socks.
Other stuff I find interesting.
A blatant political statement:
Here are some places on the web I like to hang out: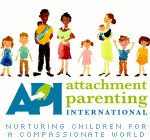 Amity Mama Forums
MotheringDotCommune
Emerald Chronicles
Some other links I dig:
Compleat Mother
Mothering Magazine
Mother Earth News
Bust Magazine
Bitch Magazine
Ms. Magazine

Connect

People
[View Entries]

[livejournal.com]
chainsawraven
,
cloeigrrl
,
cumaeansibyl
,
cyis75
,
doomdoomdoom
,
dreams-niamh
,
galliguez
,
hypothermya
,
ioerror
,
jasonwarlock
,
jenni382
,
kasul
,
kittykat1978
,
medancer
,
pandapounce
,
redstreets
,
sulon
,
zapevaj

Communities
[View entries]

Member Of (1):

Subscriptions (4):

Administrator Of (0)

Feeds
[View Entries]

Subscriptions (0)

Linking
To link to this user, copy this code:
On Dreamwidth:
Elsewhere: